The Importance Of Discipline In Quran Memorization – A Complete Guide
Imagine holding a string of pearls, each one representing a verse of the Quran. Now imagine if you could commit each pearl to memory, creating an eternal chain of divine wisdom within your mind. That's what memorizing the Quran can offer you.
But it doesn't come easy; it requires discipline. In this article, Hamil AlQuran Academy will guide you through the critical role discipline plays in this spiritual journey. You'll learn how setting a regular schedule, realistic goals and tracking progress are essential parts of this process.
We'll reveal how patience and perseverance intertwine with discipline for better retention of verses and why understanding shouldn't be overlooked in favor of mere memorization. In addition, we will delve into the spiritual rewards that await those who adopt a disciplined approach to Quran memorization.
So prepare yourself, because this journey requires not just your time and effort but also your unwavering commitment to discipline.
Understanding the Concept of Discipline (Definition)
You might be wondering, "What's this fuss about discipline?" Well, let's dive in and unravel its crucial role in mastering Quran memorization.
The discipline definition is derived from the Latin word 'disciplina', meaning instruction or training. It's the practice of instilling specific patterns of behavior and values to achieve a certain goal.
When it comes to Quran memorization, discipline isn't just about rigid rules; it embodies consistency, focus, commitment, and perseverance.
Think of it as the driving force that keeps you on track despite challenges. It's what makes you wake up for Fajr prayer to recite verses even when you'd rather stay in bed.
The origins of the discipline are deeply rooted in self-control and determination – two qualities essential for successful Quran memorization.
So, embrace discipline; your journey to mastery depends on it!
The Role of Discipline in Quran Learning
Without the consistency of daily practice, mastering anything becomes a dream; without the resilience to overcome challenges, achieving goals turns into an illusion. Discipline plays a crucial role in learning and acquiring new skills. In Quran memorization, it's no different.
Discipline strategies like creating a study schedule or finding a dedicated mentor can guide your journey. Mental discipline is equally essential; it keeps your focus sharp and aids in overcoming potential hurdles.
Here's how discipline works:
| Outcome | Lack of Discipline | Presence of Discipline |
| --- | --- | --- |
| Effect on Learning | Haphazard, inconsistent progress | Steady, consistent progress |
| Mental State | Distraction-prone, easily frustrated | Focused, resilient |
| Retention | Short term retention | Complete chapters, lifelong retention |
The Role of Discipline in Quran Learning
Remember: The path to success is paved with discipline. Don't underestimate its power in your quest to master Quran memorization!
Establishing a Regular Schedule for Memorization
Establishing a regular Quran memorization schedule isn't just about ticking off to-dos; it's about designing a lifestyle that naturally fosters learning and growth. When you commit to Quran memorization, creating a consistent routine is crucial. This approach ensures your mind becomes accustomed to absorbing the holy verses at specific times, which leads to effective memorization consistency and enhanced Quran dedication.
It's not always easy but remember: discipline is key. It strengthens your mental muscles and helps create a solid foundation for continuous learning. You'll find yourself remembering more verses with each passing day as your brain adapts to this rhythm of study.
So be patient with yourself and stay committed. With time and dedication, Quran memorization will become an integral part of your daily life.
Setting Realistic Goals and Tracking Progress
Setting achievable milestones and keeping an eye on your progress can make the journey of learning feel less like climbing a mountain and more like strolling through a meadow. When it comes to memorizing the Quran, discipline is paramount, and part of that is setting realistic goals.
Use Goal Visualization:
Visualize each surah as a stepping stone to the complete Quran.
Break down larger surahs into manageable verses.
Practice Progress Celebrations:
Reward yourself upon reaching each milestone to keep motivation levels high.
Keep track of your progress regularly, and celebrate small victories along the way.
Remember, Quran memorization techniques are not a race. It's about understanding and internalizing every verse. So pace yourself, set reasonable targets, and always celebrate your journey towards attaining this spiritual accomplishment.
The Role of Patience and Perseverance in Quran Memorization
In the journey of embracing this divine scripture, patience and perseverance are much like our very own Noah's Ark. They keep us afloat when waves of difficulties threaten to engulf us.
Memorizing the Quran is no small feat; it's a marathon that requires endurance. Embracing failures is part of this journey. No one gets it right on their first attempt. It's about trying again and again until you get there.
Cultivating consistency is equally important. Just like a plant needs regular watering, your memory needs constant revision. Stick to a schedule and follow through diligently—even when progress seems slow.
Remember, even the mightiest oak tree was once a tiny acorn! So be patient, persevere, and let the seeds of your effort grow into beautiful manifestations of divine wisdom.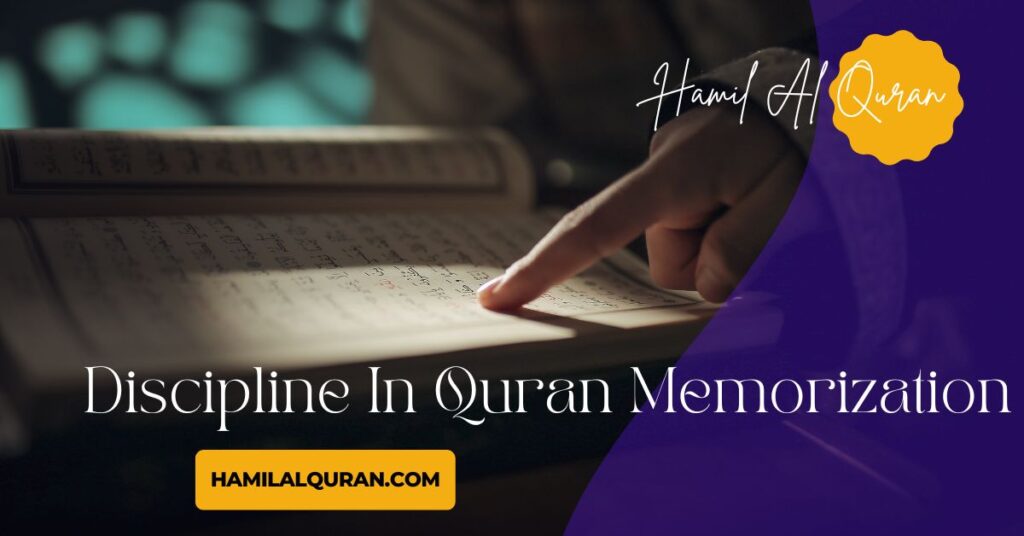 Using Techniques to Improve Discipline
Harnessing your willpower isn't enough; you've got to employ effective strategies that'll help you stay on track with your goals. Mastering Quran memorization requires the application of discipline techniques. Here are some tips:
Consistency is key: Make your study sessions a routine and stick to it – this forms a crucial part of discipline.
Break down large tasks: Memorize smaller sections of the Quran daily instead of larger portions at once, making the task more manageable.
Reward yourself: Give yourself incentives when you reach certain milestones in your journey.
These discipline techniques can prove invaluable during your Quran memorization journey. Remember, there's no one-size-fits-all approach. Find what works for you, maintain focus and patience, and watch as these methods yield fruitful results over time.
The Impact of Discipline on Retention of Verses
Believe it or not, staying disciplined can significantly boost your ability to remember verses long-term! Discipline's psychological effects not only impact your mindset but also enhance the retention of Quranic verses. The consistency and dedication required in maintaining discipline stimulate your brain, reinforcing memorization-enhancing techniques.
Here's a table that outlines the connection between discipline and verse retention:
| Discipline Techniques | Impact on Verse Retention | Psychological Effect |
| --- | --- | --- |
| Consistency | Increased recall | Boosts Confidence |
| Concentration | Deepens understanding | Enhances Focus |
| Time Management | Optimal learning periods | Reduces Stress |
The Impact of Discipline on the Hifz Quran
This insight into how discipline influences verse retention might encourage you to practice better discipline techniques. Remember, this journey isn't just about memorizing; it's about understanding and living by the words of the Quran!
Balancing Quran Memorization with Understanding
While you're striving to hold onto each verse, don't forget to delve into their meanings. It's through understanding that you enrich your heart. Through comprehension, you enlighten your mind. And through reflection, you nourish your soul.
The Quran isn't just an exercise in rote learning. It's a trove of wisdom requiring careful interpretation. Consider the cultural context when analyzing verses. This will help ground your understanding and foster deeper connections with the text. However, be wary of interpretation challenges that can arise from linguistic nuances or historical references.
Remember, discipline in memorization isn't merely about Quran recitation, but achieving a balance between memorization and understanding. This harmony fosters personal growth and profound spiritual enlightenment. Making every verse truly resonate within you.
The Benefits of a Disciplined Approach in Hifz Quran
You'll be amazed at how a structured approach to learning the holy book can revolutionize your spiritual journey! Discipline has a significant impact on focus, helping you channel your energy solely to this sacred task.
The benefits of a disciplined approach to Quran memorization are truly transformative:
Increases efficiency: With discipline, you're less likely to get distracted and more likely to achieve your Quran memorization goals quicker.
Enhances understanding: A disciplined study routine allows for comprehensive revision and better comprehension of verses.
Boosts confidence: Achieving small goals through discipline heightens self-belief in tackling larger portions of the Quran.
Fosters consistency: The role of discipline in consistency cannot be overstated. It ensures regularity, making memorization smoother.
Indeed, a disciplined approach is key to unlocking the profound wisdom within the Holy Quran.
The Spiritual Rewards of Discipline in Quran Memorization
Immerse yourself in this spiritual journey, and as you commit each holy verse to memory, feel the divine light seeping into your soul, enriching it with a peace that surpasses all understanding.
Discipline in Quran memorization doesn't just serve an educational purpose; it also brings profound spiritual rewards.
When you discipline yourself to remember Allah's words, Divine connectivity increases. Your connection with the Creator strengthens as His sacred verses become an integral part of your life. This ingrained knowledge empowers you spiritually, making every prayer more meaningful.
So, strive for consistency and patience in this sacred endeavor. The discipline required may seem challenging initially but know that every step towards Quran memorization is a step towards spiritual empowerment—bringing you closer to God's mercy and love.
Conclusion
You've seen the crucial role discipline plays in Quran memorization. With a steady routine, attainable goals, and unwavering patience, you can enhance your retention and understanding.
It'll not only lead to spiritual rewards but also enrich your personal growth.
For better results, you can start online Quran memorization classes free trials now!