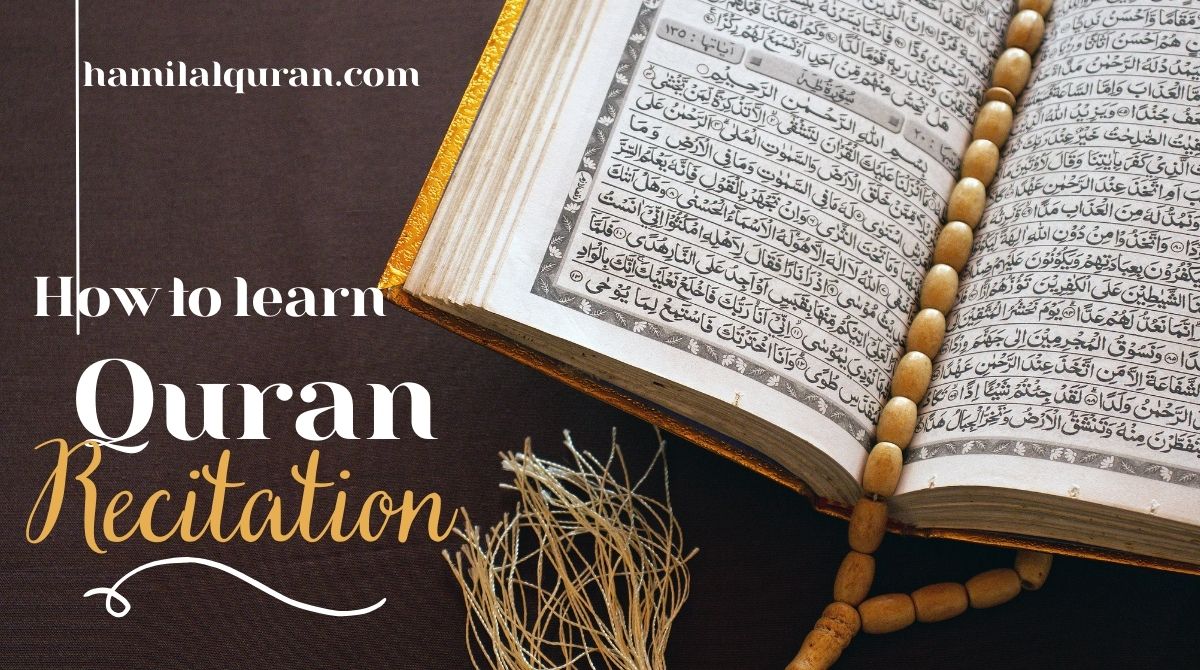 A Comprehensive Guide – How to learn Quran recitation for Beginners?
Learning to recite the Holy Quran properly is an honourable skill for Muslims. As the central religious text of Islam, reciting the Quran correctly and melodiously is highly encouraged. Learning Quran recitation (tajweed) allows you to unlock deeper meaning from the divine words and reflect on their wisdom. With dedication and guidance, anyone can master the Tajweed rules and recite the Quran beautifully. We'll explore the meaning of Quran recitation, its benefits, the different styles, and tips to perfect your technique. Whether you're a beginner looking to learn or want to improve your existing recitation, this guide will help you on your rewarding journey towards mastering the recitation of the Quran.
Let's dive in!
Find a Qualified Quran Teacher
You should begin learning Quran recitation by finding a qualified Quran teacher to guide you. He will have expertise in Tajweed rules and can teach you the correct pronunciation and intonation of the Quran. They'll also provide valuable feedback and guidance to improve your recitation.
To find a Quran teacher, you can contact local Islamic Quran academy centres, mosques, or schools that offer Quranic recitation training. You can also consider online platforms that provide Quranic recitation resources and connect students with experienced teachers. It's important to ensure that the teacher you choose is knowledgeable, patient, and able to cater to your individual learning needs.
Establish a Regular Practice Routine
Create a consistent practice schedule to establish a routine for learning Quran recitation. Practising regularly is crucial for improving your recitation skills and retaining what you have learned.
Set aside dedicated time each day for your practice sessions, whether in the morning, afternoon, or evening. Consistency is key, so try to keep reading simultaneously every day. Get a quiet and comfortable place where you can focus without distractions.
Start with shorter practice sessions and gradually increase the duration as you become more comfortable. It's important to stay committed and disciplined in your practice routine.
Master Pronunciation and Intonation
During your practice sessions, focus on mastering the pronunciation and intonation of the Quran. Proper Quranic reading is essential for reciting the words of Allah accurately. Take your time to learn how to pronounce each letter and syllable, paying attention to the different articulation points in your mouth.
Practice each letter individually and then recite words and phrases to ensure you pronounce them correctly.
Additionally, quranic intonation is crucial for conveying the meaning and emotion of the verses. Pay attention to the rules of tajweed, which govern the melodic patterns and rhythm of recitation.
Practice reciting with proper intonation to bring life to the words of the Quran and deepen your connection with it.
Utilize Quranic Recitation Resources
To enhance your learning experience, use available Quranic recitation resources such as online tutorials and mobile applications to improve your skills further.
These resources provide a variety of Quranic recitation methods that can help you learn and perfect your recitation.
Online tutorials offer step-by-step guidance, allowing you to learn at your own pace and practice with interactive exercises.
On the other hand, mobile applications offer convenience and accessibility, allowing you to practice anytime and anywhere.
By utilizing these resources, you can benefit from the expertise of experienced reciters and scholars who've designed these tools to help learners like you.
These resources help you learn the correct pronunciation and intonation and provide additional benefits, such as improving your understanding of the Quran's meaning and fostering a deeper connection with the text.
Participate in Quran Recitation Competitions
Are you ready to showcase your Quran recitation skills by participating in Quran recitation competitions? This is a great opportunity to demonstrate your proficiency in reciting the Quran, learn from others, and improve your skills.
Here are five reasons why you should consider participating in Quranic recitation competitions:
Gain Confidence: Competing in these competitions will help boost your confidence in reciting the Quran in front of an audience.
Receive Feedback: Judges and fellow contestants provide valuable evaluations that can help you identify areas for improvement.
Learn from Others: Observing other participants' recitation styles and techniques can enhance your learning experience.
Foster Community: Quranic recitation competitions unite individuals with a shared passion for the Quran, creating a supportive and encouraging community.
Motivation to Excel: Competing against others can inspire you to work harder and strive for excellence in your recitation skills.
Develop Memorization Skills
Develop memorization skills by incorporating regular Quran recitation practice into your daily routine.
Hifz Quran is a challenging but rewarding endeavour. By reciting the Quran daily, you'll become more familiar with its verses and gradually memorize them.
Start by reciting a few verses daily and gradually increasing the length as you become more comfortable. Reciting with proper tajweed (pronunciation) and understanding the Quran surahs and verses is important to enhance your memorization.
Additionally, establish a consistent study schedule and find a quiet place to recite daily. Utilize tools such as flashcards or digital apps to aid in memorization.
Stay in a supportive community that encourages and motivates your Tilawah (recitation) journey.
With dedication and practice, you can develop strong memorization skills and become proficient in reciting the Quran.
Understand the Different Recitation Styles
Choose the recitation style that resonates with you and explore its unique features. Understanding the different recitation styles is essential in learning to recite the Quran effectively. Here are some recitation styles (Qiraat) to consider:
Hafs An Asim: This is the most widely used recitation style and is based on the recitation of Hafs from Asim, a prominent transmitter of the Quran.
Warsh An Nafi: This style is popular in North Africa and is based on the recitation of Nafi' from Warsh.
Qalun An Nafi: This recitation style is similar to Warsh, but with slight differences in pronunciation and phrasing.
Al-Duri An Abu 'Amr: This style is based on the recitation of Abu 'Amr from Al-Duri and is known for its melodious and rhythmic tone.
Al-Susi An Abi 'Amr: This recitation style is based on the recitation of Abu 'Amr from Al-Susi and is characterized by its unique intonation.
Overcome Common Challenges in Quran Recitation
If you struggle with pronunciation and fluency, you can overcome these challenges in Quran recitation by practicing regularly and seeking guidance from a qualified teacher.
Quranic Arabic can be complex, with its unique sounds and rules. Regular practice allows you to familiarize yourself with the correct pronunciation of each letter and the rules of Tajweed, which govern the proper recitation of the Quran.
You can improve your fluency and accuracy by consistently reciting the Quran and actively seeking feedback from a qualified teacher. A teacher can guide you in understanding the verses' correct pronunciation, intonation, and rhythm. They can also provide personalized feedback and corrections, helping you refine your recitation skills.
Progress From Beginner to Advanced Levels
As you continue to practice and receive guidance, you'll gradually advance from the beginner to more advanced levels of Quran recitation. Learning Arabic is essential to understanding the Quran and improving your recitation. Here are some key steps to progress in your recitation:
Master the basic rules of Tajweed, such as proper pronunciation and elongation of letters.
Memorize small sections of the Quran to improve your fluency and retention.
Practice regularly with a qualified teacher who can provide feedback and correction.
Expand your vocabulary by studying the meanings of the Quranic words and phrases.
Engage in recitation competitions or recite in front of others to gain confidence and improve your recitation skills.
Importance of Tajweed Rules
To improve your Quran recitation skills, it's important to understand and follow the Tajweed rules. Tajweed is the rules that governs the correct pronunciation and articulation of the Quranic recitation. It ensures that each letter is pronounced correctly and with the appropriate characteristics.
You can recite the Quran with clarity, accuracy, and beauty by learning and implementing Tajweed rules. Tajweed also helps in understanding the meanings of the verses and conveying the intended message effectively. It isn't just about reciting the words but also as Allah intended.
Conclusion
Understanding the importance of Tajweed rules and finding a qualified Quran teacher can establish a strong foundation for Quran recitation.
By establishing a regular practice routine and mastering pronunciation and intonation, you can improve your skills and become more confident in reciting the Quran.
Utilizing Quranic recitation resources can enhance your learning experience and provide additional guidance and support.
Developing memorization skills is another crucial aspect of Quran recitation, as it allows you to internalize and retain verses from the Quran.
Understanding different recitation styles can further broaden your knowledge and appreciation of the Quran.
Lastly, it is important to acknowledge and overcome common challenges that may arise during your Quran recitation journey.
By dedicating yourself and consistently putting in effort, you can progress from beginner to advanced levels in Quran recitation.
Through this journey, you can unlock the beauty and spiritual depth of the Quran and experience its transformative power.
Start your journey today and begin the rewarding process of learning Quran Recitation.