Islamic educational platforms and tools for children
Posted by

Categories

Blog
Teaching kids about Islam holds significant importance for several reasons. Teaching children about Islam helps foster a strong foundation of faith and an understanding of their religious identity. It introduces them to the core beliefs, principles, and practices of Islam, enabling them to develop a deep connection with their religion from an early age. Also, Islamic teachings emphasize moral values, ethics, and principles that guide individuals in leading righteous lives. Teaching children about Islam instills these values, such as honesty, kindness, compassion, justice, and respect for others. It helps shape their character and promotes positive behavior and interactions with others. By learning about Islam, children become familiar with the rituals, practices, and obligations of a Muslim's life, such as prayer, fasting, charity, and pilgrimage. This knowledge enables them to actively participate in and understand the significance of these practices as they grow older.
Teaching kids the Aqeedah (Islamic creed and beliefs)
Teaching Aqeedah (Islamic creed and beliefs) to kids is an essential part of their Islamic education. When teaching Aqeedah to kids we consider some aspects:
Tawheed (Oneness of Allah): Start by teaching children about the concept of Tawheed, which is the belief in the Oneness of Allah SWT. Teach them that Allah SWT is the one and only God and that He has no partners or associates. Emphasize the importance of worshiping Allah alone and the significance of maintaining this belief throughout their lives.
Attributes of Allah: Introduce children to some of the beautiful names and attributes of Allah SWT, such as the All-Knowing, All-Merciful, and All-Powerful. Explain these attributes in a simple and age-appropriate manner, highlighting how they reflect Allah's greatness and how we can benefit from understanding and acknowledging them.
Prophets and Messengers: Teach children about the Prophets and Messengers sent by Allah to guide humanity, such as Prophet Muhammad (PBUH) and others mentioned in the Holy Quran. Share stories from their lives, focusing on their exemplary character, the messages they conveyed, and their devotion to Allah SWT.
Believing in Angels: Introduce children to the concept of angels as beings created by Allah to carry out specific tasks. Teach them about the roles of angels, such as recording deeds, delivering messages, and protecting humans.
The Day of Judgment: Discuss the belief in the Day of Judgment, where all individuals will be held accountable for their actions in this world. Explain the concepts of Paradise (Jannah) and Hellfire (Jahannam) and how our actions in this life determine our destination in the Hereafter.
Importance of Prayer: Emphasize the significance of establishing regular prayer (Salah) as a fundamental pillar of Islam. Teach children about the importance of communicating with Allah through prayer and the spiritual connection between us and Allah the God.
The Holy Quran as the Word of Allah: Introduce children to the Quran as the holy book of Islam, emphasizing that it is the word of Allah revealed to Prophet Muhammad (PBUH). Teach them to respect and handle the Quran with care and encourage them to develop a love for its recitation and understanding.
Remember to adapt your teaching approach to the age and comprehension level of the children when learning Aqeedah. Patience, repetition, and consistent reinforcement of key concepts are vital in helping children understand and internalize Aqeedah teachings.
Teaching kids Seerah (biography) of Prophet Muhammad (PBUH)
When teaching the biography of the prophet Muhammad (PBUH) to children, it's important to cultivate their love and respect for the Prophet Muhammad. It's important to Begin by introducing children to the early life of Prophet Muhammad (peace be upon him), including his birth, family, and upbringing. Share stories about his noble character, honesty, and kind-heartedness even from a young age.
As teachers, we highlight significant events and milestones in the Prophet's life, such as the revelation of the Holy Quran, the migration to Madinah, the Treaty of Hudaybiyah, and the conquest of Makkah. We Explain these events in simple terms, emphasizing their historical and spiritual significance. Extract moral lessons and values from the Prophet's life stories. For example, emphasize his kindness, forgiveness, honesty, humility, and mercy towards others. Relate these lessons to children's daily lives and encourage them to emulate these qualities.
We share Seerah's stories through storytelling sessions
As teachers, we engage them in role-playing activities where they can take on the roles of the Prophet, his companions, or other significant figures. This hands-on approach helps children develop a deeper connection with the biography of Prophet Muhammad. Also, we relate the lessons from the Prophet's life to present-day situations. We discuss to kids how the Prophet (PBUH) resolved conflicts, promoted justice, and demonstrated compassion, and encourage children to apply these teachings in their interactions with others.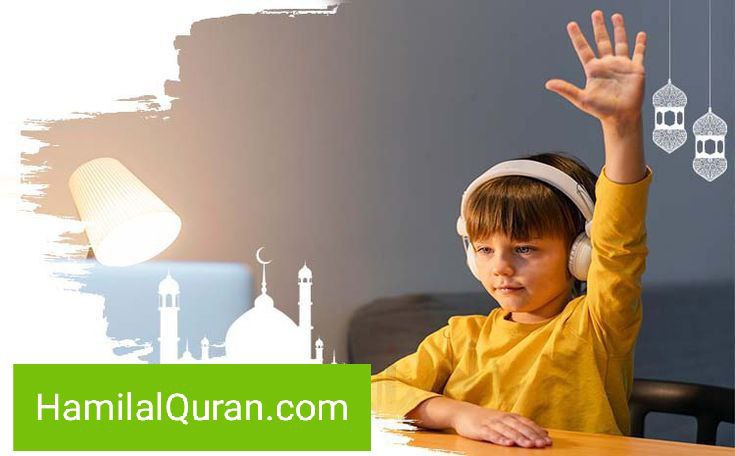 Islamic educational platforms and tools for children
Teaching kids Islam online holds significant importance in today's digital age. Online platforms provide easy access to Islamic educational resources regardless of geographical location. It allows children from diverse backgrounds to learn about Islam and its teachings, even in areas where access to traditional Islamic education may be limited.
many Islamic academies regard Age-Appropriate Content: Many online Islamic education platforms and tools are specifically designed for children, offering content that is tailored to their age and understanding. This ensures that children receive age-appropriate Islamic knowledge and can grasp the concepts more effectively.
Flexibility and Convenience: Online learning provides flexibility in terms of scheduling and pace. Children can learn at their own pace and revisit lessons as needed. This flexibility allows them to balance their Islamic education with other commitments and activities.
Parental Involvement: Online Islamic education platforms often encourage parental involvement, providing resources for parents to engage in their children's learning. Parents can play an active role in guiding their children's online Islamic education, reinforcing the lessons taught
Supplement to Traditional Education: Online Islamic education can complement traditional methods of teaching, such as attending a mosque or Islamic school. It can serve as a supplemental resource, reinforcing and expanding upon the knowledge gained through face-to-face learning.
Can you recommend a platform that teaches Islam to kids?
Of course! Hamil al Quran is an Online Islamic Academy provides Islamic education for kids as well as adults.