Arabic Language Proficiency Test Prepare and Succeed with Confidence
Posted by

Categories

Blog
The Arabic language occupies great importance to Muslims because it is the language of the sources of Islamic legislation, the Quran, and the Sunnah of the Prophet, and it is not permissible to pray in Islam without it. The great rituals of Islam, such as Hajj and Umrah, are also held there. Therefore, being keen to learn and master the Arabic language is considered part of the religion because it helps the Muslim in understanding the matters of his religion and understanding more about the Noble Quran and the noble Prophet's Sunnah. So we are here to contribute to you in this great task and our desire to facilitate your journey in learning Arabic. We conducted our research to present to you the most important Tips for passing the Arabic language exams successfully.
Definition of Arabic Language Proficiency
Arabic language Proficiency is the acquisition of the skills of being able to express the language, whether by speaking or writing, or understanding what others speak in the Arabic language. In the sense of controlling the pronunciation of Arabic speech according to the rules of grammar, writing it according to the rules of spelling, and controlling the exits of Arabic letters perfectly.
Proficiency is a good characteristic that is required of a Muslim in everything he does. If he is able to master something, he should do so, not only in learning Arabic but in any work he does, whether religious or worldly.
Types of Tests Available
Throughout the study of the Arabic Language Proficiency Course at the Academy of Hamil Al Quran, students undergo periodic assessments and tests in order to determine their exact level and determine the intensity of the lessons later based on determining the students' ability to understand and comprehend.
Benefits of Taking the Test
It encourages the student to be interested in studying his lessons and obliges him to review and memorize them and search for them in their references.
It motivates students to do more to get high ratings and pass exams successfully.
It indicates the levels of the students and evaluates their comprehension of the curricula taught to them. Where the teachers show the status of their students, show them the result of their work, and show them the weaknesses of the students to work on strengthening them.
Accustomed students to perseverance and self-reliance in extracting information from their memory.
Create an atmosphere of competition and good challenge among students, and motivate them to study diligently.
Understanding the Test Format
There will be written exams to test the rules of spelling and grammar, and there will be oral choices to test the correct pronunciation according to the rules of Arabic grammar.
Learning the Arabic language is not difficult or impossible. But if you seek help from God and exhaust the means that help you to learn the Arabic language and master it, then God will grant you success, no doubt, as God Almighty said
As for those who believe and do good, We certainly never deny the reward of those who are best in deeds.

Al-kahf 30
Any good deed that a person does with kindness and mastery will be rewarded for it, God willing. Here are some tips that help you pass the Arabic language proficiency exams.
Tips for Achieving Success – Strategies for Studying and Practicing
Time Management
Make a to-do list for the days of the week. And write in the same task book the dates of the exams that will take place in the coming period. Then get up
Make a schedule to organize your tasks and determine the time when you will study for the exam, bearing in mind allocating enough time to study so that you can focus and understand well. Making an argument and writing it down will help you avoid procrastination and laziness.
Break large tasks into smaller ones
If you want to study a specific chapter, divide it into several parts, then study each of them, as this would help you focus and not be distracted. It also makes you feel accomplished and will keep you from gaining and procrastinating, because they are small tasks that do not take long.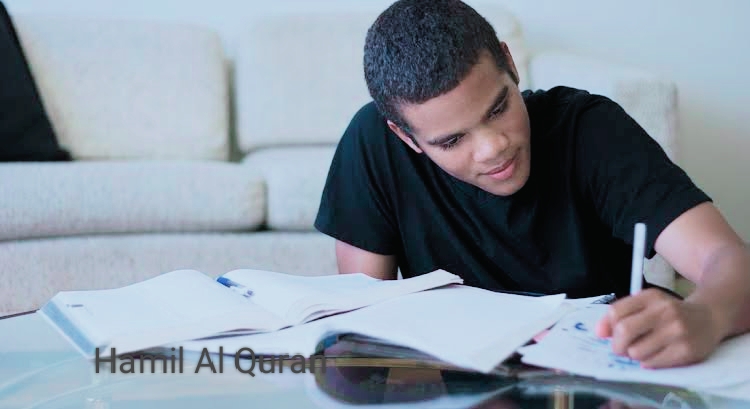 Set a specific time to study
Try to set a specific time for studying, for example, preferably 40 minutes, so as not to lose your focus. Then you can take a five-minute rest. Then complete your study.
Stay away from distractions
Choose a quiet place to study, and stay away as much as possible from anything that can disturb or distract you. Try to avoid procrastination stimuli, always be relaxed, and stay away from stress and negative feelings.
Choose the best times to study
You are the most knowledgeable person about your tasks and responsibilities. So try to choose a time to study when your mind is relaxed and active at the same time. The time from after dawn until sunrise is one of the best times when the mind can absorb and store information.
keep notes
Prepare a notepad with you and write down the parts that you find difficult to focus on and study them again or seek the help of your teacher to understand them.
Resources to Utilize
You can use the resources that the academy gives you to study. Where the Quran Holder Academy gives you downloadable educational resources in the form of books, recordings, and videos. This makes it easier for you to study a lot, as the content of the courses is with you wherever you are, so that you can study comfortably at any time.
Grammar Rules to Understand
Use grammar rules to understand some texts and sentences that are difficult for you to understand. You can refer to what was explained during the course regarding the grammar details in order to make it clear to you.
Conversation Practice Exercises
You can practice conversations in Arabic, as this will help you a lot in confirming what has been studied and will give you self-confidence in speaking Arabic. You can practice conversations in Arabic with your friends in the course with your friends who speak Arabic, or through Arabic language teaching applications.
Vocabulary Building Techniques
You can compile a vocabulary in Arabic by learning the most important and common Arabic words used daily. Watching programs in Arabic, browsing Arabic websites, and following social media websites in Arabic.
Listening Comprehension Exercises
You can use the Listening Comprehension Exercises in order to strengthen your Arabic, there are some applications that help to do listening exercises. You can also improve your listening skill and understanding of Arabic texts by listening to the Holy Quran. You can choose a Quran reciter who likes his voice and plays it with you constantly while you are driving the car while doing sports, as this will strengthen your speaking and listening skills.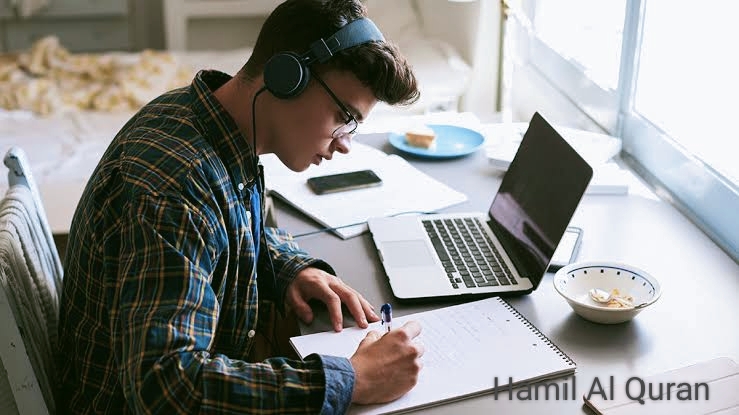 Writing Practice Prompts
You can practice expressing your feelings and what is going on inside you in Arabic, as this will improve your Arabic writing skills. It may take you some time at first, but it will make you able to express your thoughts, opinions, and feelings easily and clearly later automatically, whether by writing or speaking.
Preparing for the Exam Day
Review your handwritten notes and try to quickly review the chapters in which you will be tested by reading them or reviewing a summary of them so that the information is present in your mind.
After the Exam
After the exam, Hamil Al Quran Academy gives you a certificate of completing the course in which you were evaluated, and then you can complete the rest of the levels of Arabic language courses with the Hamil Al Quran Academy.
You can now join the Academy of the Quran Holder and listen to Arabic language classes with an excellent selection of the best teachers. Below is a quick overview of some of the characteristics that characterize the Hamil Al Quran  courses:
Expert and qualified teachers, the Arabic language is their mother tongue. They studied the Arabic language and mastered it well, and graduated from major universities such as the Islamic University in Madinah and Al-Azhar Al-Sharif University in Cairo.
Courses suitable for all levels, from beginners to professionals and all ages, from children to the elderly.
Downloadable educational materials such as books, recordings, and videos, which the student can refer to and study at any time.
Live teaching sessions have a high degree of interaction and communication between teachers and students.
Test each student and determine the appropriate levels for him, based on his ability to absorb.
Great flexibility in choosing course and class dates and class intensity per month based on the appropriate time for the student.
Teachers for the sisters so that they can deal with them in complete comfort and communicate well.
Reasonable costs for all levels: You can now discover more without doing anything, with you only having to go through the free trial to live the episode practically for free without any costs. Do not hesitate and take advantage of this opportunity now.
Conclusion
In the previous lines, we talked about Arabic Language Proficiency Test Prepare and Succeed with Confidence. And we showed a brief definition of mastering the Arabic language, as we explained the most important tips on how to prepare for the exams of the Arabic language courses, such as using good strategies for studying, important Resources to Utilize, Writing Practice Prompts, Listening Comprehension Exercises, Vocabulary Building Techniques, Grammar Rules to Understand, conversation practice exercise. We hope our words benefit you, We wish success to all of you.