Arabic Cultural Etiquette Before Visiting Top Arab Destinations
Posted by

Categories

Blog
Language is not limited to the field of letters, grammar, and spelling rules only, and people do not use it for speech and communication only. When one speaks a certain language, this language implies a certain culture, history, awareness, and identity. Societies express through language their culture, heritage, and history, and at the present time, if we want to learn a language and delve into it, we will have to learn about the culture of the people who speak this language as this will help us more to understand the language in a deeper way and the ability to communicate with native speakers fluently.
The vocabulary and expressions that are used in newspapers, official articles, and documentaries are not necessarily the ones that the popular population uses in their daily lives to communicate with each other. Let's get to know more about some aspects of Arab culture that will help you a lot if you want to travel to an Arab country and interact with Arab people more closely and effectively.
Understanding cultural norms and values
It has become known in linguistic studies that language is not just a communication tool, nor is it a group of sounds that every person expresses their purposes only; it exceeded that in stages and became a bridge for communication and unification of concepts between individuals, groups, and generations.
Language is the real pulse of the speaking community, and the always desired goal – for the language learner – is to negate the feeling of social alienation that is reflected in the linguistic performance of the new speaker, by teaching him the language from a social point of view, which is what enables him to enter society with confidence and stability. Learn about Arab culture and customs in order to facilitate integration with native speakers while traveling.
To learn more join our online Arabic classes and get your free trial
Appropriate behavior and dress codes
When traveling to Arab countries, you must take into account the general behavior of the Arab people so that there is no contradiction between your behavior and their behavior, and you can integrate with them. For example, Arab women usually do not greet non-mahram men, as this is contrary to Islamic teachings and Arab traditions. The dress code for Arabs must also be observed, as most women wear modest clothes and it is not acceptable to go out naked.
Customs and traditions to be aware of
There are Arab customs that must be observed, as not dealing with them is considered a defect. For example, hospitality is considered one of the most important Arab customs that are considered sacred duties, and its origins go back to the Bedouins who were famous for their constant travel, which affected the necessity of Bedouin hospitality for each other in order to survive in the desert environment, and with the passage of time the Arab peoples inherited the habit of hospitality and became one of The important customs of all Arab countries were not limited to the Bedouins only. In addition to that, Islam came and emphasized the importance of honoring the guest, as it is not part of the religion for a guest to come to you and not to receive him well.
Overview of popular Arabic-speaking countries for travel
United Arab Emirates
The United Arab Emirates passport ranked first in the Arab world and 15th in the world, with the ability of its holder to enter 176 countries without a prior visa or a visa upon arrival, according to the global classification of the "Henley" index for passports for the third quarter of 2022.
Qatar
Qatar ranked second in the Arab world and 57th in the world, with a total of 99 destinations
Kuwait
Kuwait followed, third in the Arab world, and 59th in the world, with 96 destinations.
Bahrain
Bahrain ranked fourth in the Arab world, with a total of 86 destinations.
The Kingdom of Saudi Arabia
the Kingdom of Saudi Arabia, ranked fifth with 81 destinations, equal to the Sultanate of Oman.
Tunisia
In seventh place in the Arab world came Tunisia with 71 destinations, then Morocco in eighth place with 65 destinations, then Mauritania ninth with 60 destinations, and Comoros tenth with 54 destinations. Egypt ranked eleventh in the Arab world with 53 destinations, jointly with Jordan and Algeria.
Highlighting unique attractions and landmarks
Burj Al Arab
Burj Al Arab is located in the Emirate of Dubai in the United Arab Emirates, and it was designed by Tom Wright, and it reaches a height of three hundred and twenty-one meters, and it consists of sixty-six floors, and it is an entire hotel, and it is one of the buildings built on an artificial island, located in the Persian Gulf It has an underwater restaurant and seven-star hotel rooms.
Burj Khalifa
Burj Khalifa is the tallest skyscraper in the whole world, and it is also in the city of Dubai in the United Arab Emirates, and the most amazing architectural designs are evident in it, and it is one of the most famous tourist sites in the whole world, as it is attended by millions of visitors annually, and it is composed of one hundred and fifty-three floors.
The Jordanian city of Petra
The Jordanian city of Petra is one of the new Seven Wonders of the World. It is called the Pink City. It was built by the Nabatean Arabs. It is completely carved into the rock. Petra is one of the most beautiful places in the world. It also reflects the greatness of God in the beauty of nature, the rocky outcrops in the Siq, and many of Petra's landmarks, such as the court and the royal tombs.
The Dead Sea
The Dead Sea is the lowest point on the surface of the earth, visited by thousands of visitors annually, and it is the only sea in the world that has no life, due to the high percentage of salt in it, which is equivalent to ten times the salt found in the seas of the world. It is also 400 meters below sea level, and many tourists come to it for recreation and treatment of its waters and mud. The Dead Sea water is considered one of the richest waters in natural minerals that are important for the skin, as it cures many diseases.
Baalbek
The city of Baalbek is one of the most important archaeological and historical cities in Lebanon, visited by thousands of tourists, to enjoy its beautiful scenery and charming nature, and it is about eighty-three kilometers from the capital, Beirut, and it is one of the most important tourist sites that visitors from all over the world accept, and it is held every year. A great singing and art festival, which stars and celebrities flock to. Jeita Grotto is called the jewel of Lebanese tourism, and the greatness of the Creator, Glory be to Him, is evident in the most beautiful natural formations.
Jeita Grotto
Jeita Grotto is located in the Nahr al-Kalb Valley, about twenty kilometers from the Lebanese capital, Beirut. The world, and contains a tunnel length of one hundred and twenty meters.
Luxor city
It is one of the most beautiful and ancient tourist and archaeological places in the world, and its historical depth extends back to about one thousand four hundred years BC. It contains the Karnak Temple, the Luxor Temple, the Valley of the Kings, the Luxor Museum, Deir el-Bahari, and the Ramesseum Temple.
The city of Abu Simbel
is one of the most important Egyptian tourist and archaeological sites, and it is located south of Aswan, and it contains two important pharaonic temples, which are the Great Temple of Abu Simbel, known as Ramesses II, which is one of the most beautiful places ever. The facade of the temple consists of a height of thirty-three meters, a width of thirty-eight meters, and four large statues of King Ramesses II, as they represent him sitting on his throne with a crown on his head. It was built by Ramses II, in honor of the memory of his wife, Nefertiti.
The pyramids of Giza
They are among the most famous tourist sites in the world, as they are considered one of the seven ancient wonders of the world. They are located in the city of Giza in the Arab Republic of Egypt. King Khafre ordered its construction, and the pyramid of Menkaure was ordered to be built by the son of King Khafre.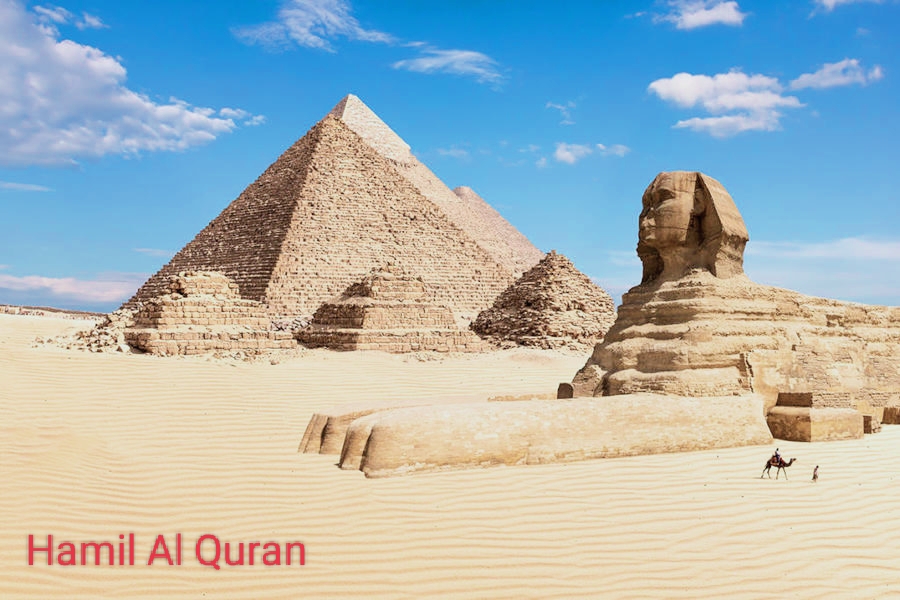 Agadir city
It is one of the most beautiful tourist sites in the Maghreb, and it is visited by tourists from all over the world. It is a coastal city of charming beauty, and it has many tourist sites such as the historical Kasbah Castle, the Amazigh Museum, Massa, the historical city of Tzen, and others.
Meknes city
It is one of the most important tourist sites in the Maghreb (Morocco), and includes many tourist sites and Roman ruins. It is considered one of the most beautiful cities in Morocco in terms of its charming nature and excellence in beautiful architecture.
Babylon city
It is one of the most important and beautiful Iraqi historical cities, and it contains the ruins of the Hanging Gardens of Babylon, which is one of the seven ancient wonders of the world, and it contains many important monuments, such as palaces, gates, and theaters, and it was the capital of the Babylonians.
Nineveh city
It is one of the most famous ancient cities dating back to the Assyrian civilization, and it is considered one of the most important archaeological sites, and it has a twelve-kilometer wall.
The city of Aleppo
is one of the richest archaeological areas in the Arab world, and it is found in Syria, and it contains the oldest civilizations in the world. launch.
The city of Palmyra
The city of Palmyra is located in the desert of Syria. It is called the Bride of the Desert. There are hot water springs close to it. It is rich in unique archaeological designs dating back to several civilizations, such as the Temple of Baal, the ancient baths, the stairs, the triumphal arch, and the royal tombs.
Tips for navigating local customs and traditions
Respect the customs, traditions, and culture of the country you will visit
before you visit a country; Study its customs, traditions, and culture, and work to respect them. And learn the etiquette of eating and greeting and follow it, as well as study the prevailing style of clothing, for example, if you are visiting a conservative country, there is no need to provoke the local population with your outrageous way of dressing and not taking into account the customs and traditions of the country. In fact, the behavior of some tourists who are inconsiderate of the customs and culture of the countries they visit often causes them many problems. You can get all the details of the country you choose to spend your vacation in, including its customs and traditions, through a quick Google search, or search on some tourism and travel sites, which are many and give you complete and comprehensive details about the country where you will spend your vacation. Take pictures respectfully
We all like to take pictures on holidays and during tourism and travel, as the pictures document these moments when we were happy, but imagine that you and your child are on the street and suddenly a tourist comes, a complete stranger to you, and rides a tourist car and takes a picture of you without permission and then goes on His way, do you like it? Absolutely not.
This rule applies to humans in other countries and cultures as well. Remember that images are something very special, and there are a lot of cultures that look at them in a different way than your own culture, customs, and traditions.
Also consider the story the pictures tell, because pictures are not just fleeting things, but a whole life, and stories to be told. For example, if you are visiting a developing country – which is something that many tourists do because of the low material costs required to visit such countries – and you photograph the miserable neighborhoods and the poor people who live in these neighborhoods and then publish these pictures on the Internet, what story do you want to tell about these countries and peoples? Instead, remember that even in the poorest places you can find beauty and goodness. It is not difficult to find beautiful, unique places and wonderful people. So it is better for you to share and spread the whole story, the one that helps us recognize our common humanity rather than focusing on narrow and miserable images. That only generates pity.
Support the local economy of the country you are visiting
There are many people, families, and poor families who depend on tourism to provide the basic requirements for their lives and lives, from taxi drivers to grocery stores and small restaurants, and local tourism offices, and not ending with accommodations. When you visit a country, buy what you need of water and groceries from the small grocery stores in your neighborhood, do not buy from the large shopping centers, and remember that they are rich enough. So is the case with hiring small tourism offices to organize domestic trips for you, and remember to buy your souvenirs from the local market rather than the gift shop at the airport. In all of these cases, you'll likely save money, have a more enjoyable and authentic experience, and perhaps make lasting friendships that will carry you far beyond your travel and vacation.
Unlocking the Hidden Gems
Exploring off-the-beaten-path destinations
When you travel to the Arab countries, you will discover many destinations far from the ordinary, where you will meet the Arab people directly and go to places yourself. This is certainly very different from just knowing about this country through programs and serials or through websites. You will discover many new things related to language, pronunciation, and dialects. You will also discover many social customs and traditions that may be new to you.
Interacting with locals to discover hidden treasures
When you go to visit a country, the best way to get to know the nature and culture of these people deeply is to engage in dealings with the folk people.
Also, when you visit a country, do not eat at McDonald's, KFC, or Pizza Hut. What will you gain from eating such food that is found everywhere in the world? Instead, why not try the local food of the people you visit, is there anything better and more beautiful than eating an Egyptian meal in the many small popular restaurants scattered in the streets of Cairo, for example?
In this way, you will get to know new meals for you, and the habits of other people in cooking. As well as you will save a lot of money in these popular, cheap and delicious restaurants, instead of eating in famous and expensive restaurants located in every city in the world.
Making meaningful connections through language
When you travel to a country and you know their language, you will be able to communicate with them well. Where you can respond to them and understand them automatically, even if you encounter some difficulties at the beginning. Simply speaking with native speakers will enrich your language and gain many language skills for using Arabic vocabulary correctly as spoken by the locals. In addition to developing speaking and listening skills. When you communicate well with the local people, you will be able to form strong relationships with them.
Arabic Language and Cultural Experiences
Participating in language exchange programs
You can acquire the four skills in language writing, reading, listening, and speaking through many learning techniques, but to master and practice them, the most effective means is to find a partner to talk with and exchange words and ideas with.
For some, this matter poses a real challenge because the environment surrounding the learner, in general, is devoid of foreign speakers of the language to be learned, but it is not impossible either, as this article presents a number of the most important sites and applications that allow finding a conversation partner.
There are many programs that allow language exchange and that allow you to practice the Arabic language with other people so that you can master it.
Engaging in cultural activities and events
Participation in cultural events and activities is one of the best ways to learn the Arabic language, as you will find people speaking and practicing the language automatically, which helps you to learn the Arabic language and increase your ability to express it.
Volunteer opportunities to practice Arabic
Volunteering and internships are unpaid work that helps you get experience. volunteer and internship jobs can be important steps to meeting people and gaining skills. You can search for volunteer opportunities to teach and practice the Arabic language.
Arabic Language Mobile Apps and Tools
Best language learning apps in 2023
Duolingo.
Busuu.
Babbel.
Mondly.
Memrise.
LingoDeer.
Rosetta Stone.
HelloTalk.
Translation tools and resources
Lane's dictionary
Arabic Almanac (Arabic -> English)
Al-Mawrid (Arabic -> English)
Oxford Arabic <-> English
The AraMaster
Hawrami and baheth
Arabterm
Aratools
Arabic verb conjugator
Arabic language keyboard and input options
You can change the display language of your smart device to Arabic from the Settings app, and you can also change the keyboard settings
So that you can practice the Arabic language and become more accustomed to writing in it.
Enhancing Your Travel Experience with Arabic
Connecting with the local community
As we mentioned above, dealing with local people will help you a lot to improve your language in terms of live conversations with people who speak Arabic. Which helps you to pronounce correctly and pick up the exits of Arabic letters and gain a lot of vocabulary.
Understanding the cultural context of attractions
Speaking the Arabic language when traveling to Arabian countries will help you a lot in understanding Arab culture and communicating with Arab people, which will help you make friends and increase your enjoyment and benefit during your travel to the Arab countries.
Building confidence and independence in travel
When you go to a country and you do not speak its language, you will experience alienation, loneliness, and insecurity. As everything around you is different and new to you. You are in a different country with people with different customs and traditions. But if you speak Arabic, it will help a lot to feel self-confident and safe. Where you can communicate with them and ask about anything so that you are aware of everything around you.
Conclusion
In this article, we discussed some aspects of Arab cultural etiquette. Where we discussed the most important social customs and traditions that must be taken into account when traveling to Arab countries. We also discussed the most important countries that speak the Arabic language, and we also covered the most famous tourist attractions in the Arab countries, which can be chosen for travel according to the desire and circumstances of each person. We also touched on the most important tips that can help in navigating local customs and traditions. We have provided you with the most important resources that help you learn and improve the Arabic language.